Once a popular Fried chicken was once a popular dish among Thais. However, the flavor appears to have lost its savor over time becoming less and less popular according to a new campaign from McDonald's via Leo Burnett Thailand.
To address the lack of love for fried chicken McDonald's was determined to "bring the joy of fried chicken back to all Thais" with its new McFried Chicken.
In order to address the needs of fried chicken lovers, McDonald's and Leo Burnett Thailand chose to start by getting a recommendation from someone who can summarize people's needs: AI, by asking ChatGPT: What is a perfect fried chicken supposed to be like?
The campaign said that the new McFried Chicken's attributes matched all the information provided by ChatGPT: Crispy, Juicy, and Tasty. So, McDonald's turned these into a campaign, "The Perfect Fried Chicken by AI."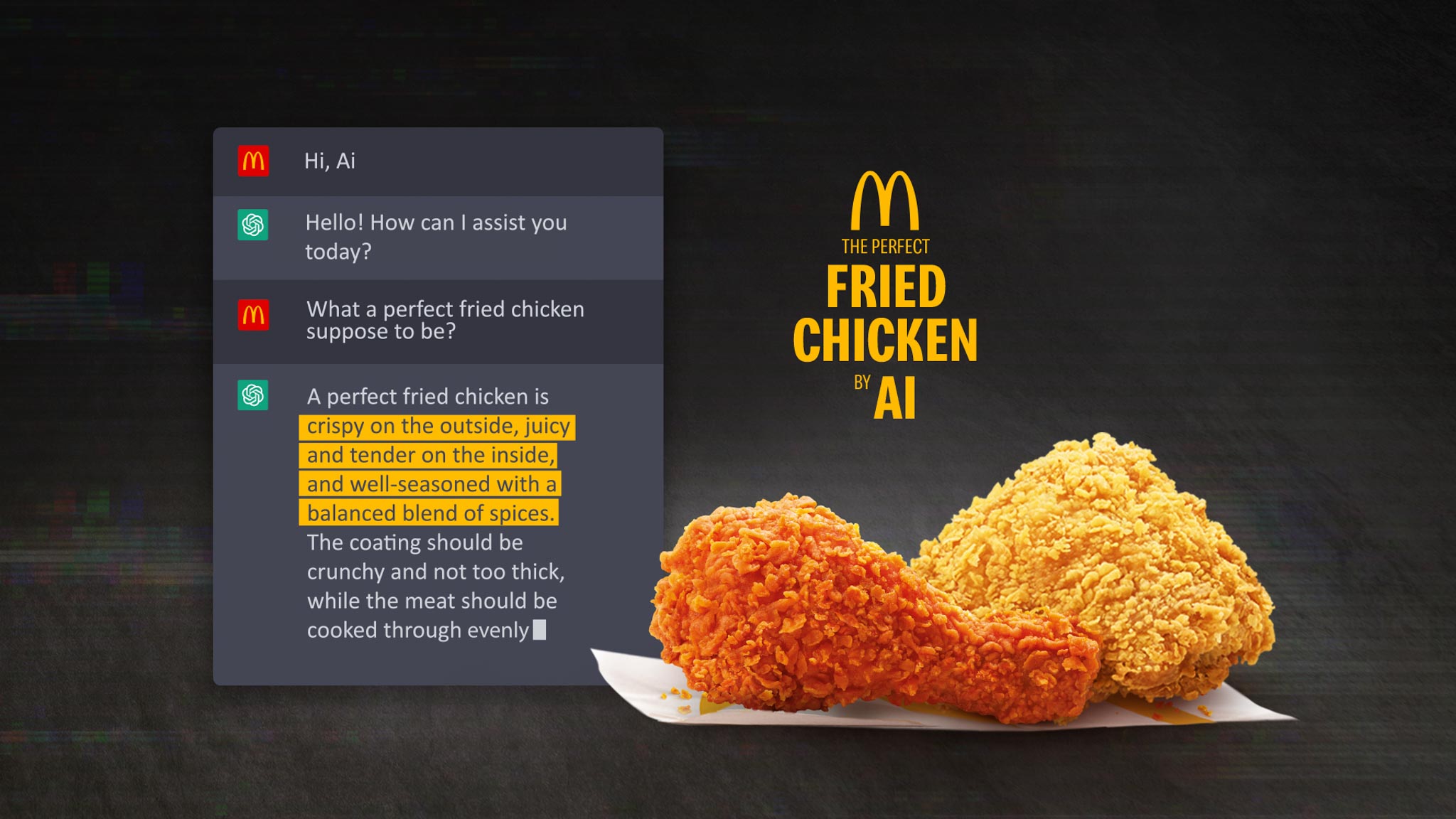 "The response to the new product has been overwhelming, with social media users going crazy over it and many publishers mentioning the innovative use of AI in the fast-food industry," said Leo Burnett Thailand.
"The sales of the new McFried Chicken surpassed expectations within just a few days of its launch. With this breakthrough, McDonald's has rekindled the joy of fried chicken for fried chicken lovers, who can once again savor the crispy, juicy, and tasty goodness of the perfect fried chicken."
---
Credits
Client: McThai
Brand: McDonald's
Agency: The Leo Burnett Group Thailand
Chief Creative Officer: Sompat Trisadikun
Executive Creative Director: Ariyawat Juntaratip
Group Creative Director: Skon Khanawuthikarn
Art Director: Sompat Trisadikun, Ariyawat Juntaratip, Tammaporn Sanguanpak
Copywriter: Daravat Ghoshachandra
Account Management Director: Yosathorn Numbenjapol
Account Manager: Paradee Latpittaya
Account Executive: Manarin Sanpawat
Agency Producer: Kanokporn Siriseree
Associate Strategic Planning Director: Nuttapol Yamkaweetrakul